andyhells | welcome to our site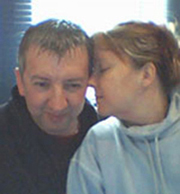 hi and welcome to our site ... we are andy and hells, to find out a little more about us and what "floats our boat" please have a look around our site. to navigate around the site use the menu links at the top right of each page: "andyhells" will bring you back to this opening page, where's there a little info about the two of us; "hols" a page dedicated to our favourite holiday destinations ... funnily enough; "interests" what makes us tick!; "vidz" a link to our underwater videos page (still somewhat of a work in progress!); and finally ... "gallery" our gallery main page showcasing some of our favourite photos, old and new, enjoy ...
andyhells ... so what's that all about then? well, oddly enough "andyhells" is all about the two of us ... andy and hells. here's a little about ourselves ... we've been together now for over 30 years ... i know we don't look old enough ... but it's true ... honest! andy: into my early fifties ... currently working in the print industry. hells: my soulmate (soulmates: "love is composed of a single soul inhabiting two bodies!") ... looking as gorgeous as ever now she's forty+ (i'm sure she'll thank me for that!), currently working in the customer service environment at management level. we have two sons fraz: who's currently serving in the royal navy and al: who works as a web designer, both very typical of their age and both loved to bits. even more frightening is the fact that we're very proud grandparents ... yes, that's right ... grandparents! we have a granddaughter and 2 grandsons ... we have to admit being grandparents is one of the best things ever to happen to us, we thought our two boys had given us a life full of love and joy, but having the grandchildren in our lives has added to that many times over ... nd
understandably our family life is very important to us and central in much that we do, so we spend as much "quality time" as we can together. now that we're grandparents this has become even more important. this "outlook" also includes our wider family circle ... so we spend a lot of time driving to achieve that, as our extended family lives in yorkshire, stafford and newcastle! luckily hells' family are a little more local. by clicking on the picture of the two of us above, you can access our gallery (which we try to update on a regular basis) which is full of family, holiday and candid shots of yours truly ...
news ... so what's new in our lives?
new gallery update ... we recently amended our gallery by splitting it down into more manageable "chunks". instead of one large block, we have split it into 4 units: "family", "greece", "maldives" and "lake district"! we have also uploaded a few new piccies. as we have so many pictures in our gallery now we'll probably have to split it down even further before much longer! we have uploaded some video footage taken in the maldives to the vidz page ... another recent addition to the video gallery is a witty little number based very loosely on "in the navy" ... end